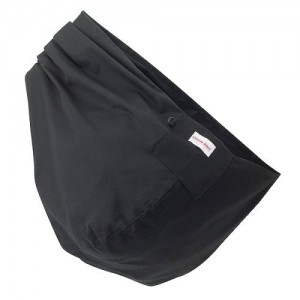 When my son was a newborn, I used a Peanut Shell Sling, which goes over one shoulder and provides great support for a tiny baby. He loved being in there and would fall asleep almost instantly. It was a fantastic way to calm him down and allowed my husband and I to go out to restaurants for a peaceful meal. I was able to discreetly breastfeed in the sling so it really helped make the first couple of months easier. Because the sling distributes the baby's weight unevenly on your body, it is important to switch sides often. If you have back problems, a carrier that distributes the baby's weight more evenly may be a better option.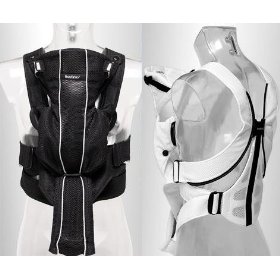 When my son turned 2 months, I switched to using a Baby Bjorn Synergy with back support, which felt much better for me and allowed my son to face in our out (once he had sufficient head support). I figured out how to breast feed in this carrier, and really enjoyed it for a few months. Then, my son got heavier (16lbs), and my upper trapezius muscles (between neck and shoulders) started to really hurt and cramp when I carried him for even two blocks. My husband still uses the Baby Bjorn and really likes it. My son seems very happy in it, especially when he is facing out, but I am just not able to use it any more.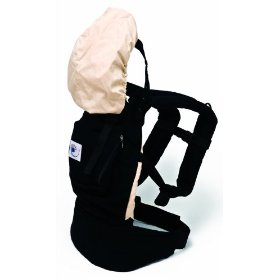 My next purchase was the Ergo Baby Carrier. This carrier only allows the baby to face you, there is a special insert that can be purchased for a newborn, and the child can be carried on your back. When my son is in the Ergo, his weight is distributed much more on my hips than my shoulders, and this enables me to carry him around longer. If he falls asleep, I can walk around for about an hour and although I may feel a bit tired after, I do not have pain. The Ergo has a pocket, so I can pack one diaper, a small container of wipes (in a ziplock bag) and a disposable changing pad, in addition to my wallet and phone, so I don't need to bring a bag at all if I have my son in the carrier. It also has a piece of material that can be used to cover the baby's head, useful during breastfeeding on the go or for support when he falls asleep. The Ergo has allowed me to continue to carry my now 6 month old son in a comfortable and pain-free way.
Leave a Reply