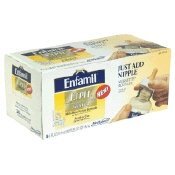 My son was born 8lbs 8oz. I began with purely breast feeding and at one month he seemed to be OK on the scale, although he did seem a bit thin. At two months, he had dropped to the 5th percentile in weight even though I fed him every couple of hours around the clock. His pediatrician said that we should supplement with formula, he recommended Enfamil Lipil with Iron.
I sought the help of a lactation consultant, Susan E. Burger, MHS, PhD, IBLCLC, RLC, who after exploring lactation issues with me, evaluating and weighing my son before and after feedings, and charting his weight gain from birthf agreed that supplementation was necessary. She worked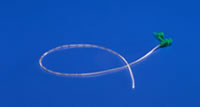 closely with me and we explored various options. Susan showed me a way to supplement with formula and try to boost my supply at the same time. She had me use a nasogastric tube (Curity Kendall feeding tubes, 36″ long, size 5 fr), one end was taped to my breast, areola, and nipple such that the tip extended just beyond the nipple and in a way that the tube would contact the baby's tongue. The other end of the tube was dipped into a bottle of formula, which would stand on a chair next to me (below the level of the nipple, so there would be no assistance from gravity). The plan that the lactation consultant devised for me, was to feed my baby 10 minutes on one side, then the other and then again on each side for a total of 40 minutes (4 breasts). At this point I would attach the tube as I just described and have my son latch back on. When he sucked, he was drawing in formula from the bottle and at the same time stimulating the breast to produce more milk. It may sound complicated, but it was quite easy to do and did not require dealing with bottles. After the feeding the tube needs to be flushed with water by use of a plastic syringe. I typically flushed once or twice with hot water and once with cold. Soap should not be used as it is hard to get it out of the very thin tube.  I was advised to use each tube for a week and then throw it out. I mistakenly bought and tried using a tube that was 15″ long, which I thought was too short and difficult to use. I normally placed the bottle with the 36″ tube in it on a chair next to me but with the 15″ I had to hold it in my hand which was too much to juggle while trying to nurse. One thing I should mention about the tube is that on one end it is closed and has two little wholes, this whole piece needs to be cut off creating an open end. The other end has a plastic tip (white or green) and a piece that can be used to plug the opening, I tore off this little plug piece, because it is not needed. This nasogastric tube method is also quite cheap.  (one tube is about $5, I have seen a case of 50 sold for $115.99, making it $2.32/tube)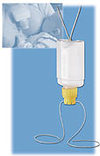 During this period I also learned about something called the Medela Supplemental Nursing System (SNS). It is the same idea as I just described, except there is a special pouch that goes around your neck that holds the extra milk or formula. I read that the pouch is a bit cumbersome to fill with formula but I'm sure with practice it gets easy. The system costs about $80.
I found this to be a great way for supplementing a very young baby, for increasing lactation, avoiding nipple confusion, and an option if the baby refuses a bottle from the mother. I've also read that some women use this method for breastfeeding an adopted baby for bonding.
Tags : boost breast milk supply, breastfeeding adopted baby, breastfeeding and supplementing, formula, increasing lactation, lactation consultant, medela sns, medela supplementary nursing system, supplement with formula, supplementary nursing system, supplementing at the breast, supplementing with formula using a tube, Susan Burger | add comments