Being in the womb for nine months, babies are accustomed to pretty tight quarters. For the fist few months after birth, to satisfy their sensory needs, babies often enjoy and are calmed by being swaddled. Not all babies will need this, but many do, and you will know by your baby's response if swaddling is for him/her.
I received various kind of blankets as gifts. Some were pretty, some were super soft and some were shaped as triangles, apparently to make swaddling easier. I feel like I have tried my fair share and I have two recommendations.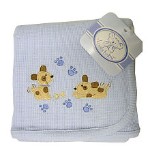 While my son was small (the first 2 months), the blankets that worked best for me were not the fancy pretty ones, which I thought I would prefer, but the cheaper, simpler, cotton waffle weave blankets. I like the ones by Koala Baby because they are larger (30″ x 40″) than some of the other brands out there. These are great because they are stretchy, allowing for a snug swaddle but still allow some breathing room. They are not too heavy, so the baby does not overheat. And they are quite affordable. I purchased four so that we could always have a clean one on hand.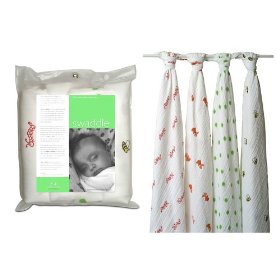 Once my son got taller (~25 inches at 2 months), I found the waffle weave blankets to be too small, and discovered another wonderful product: muslin wraps by Aden and Anais. These are fantastic! They are light-weight, large, and are great for swaddling a taller/ larger baby. They come in a great variety of colors and patterns and can be used for much more than just swaddling. I found them great for lining the inside of the stroller, covering my son when he sleeps, and placing one under him if he's on the carpet or grass, to provide a clean surface for tummy time.



Tags : aden and anais, baby swaddling, blanket, cotton blankets, Koala Baby, muslin wraps, sleeping, swaddle | add comments