I have tried three kinds of nursing pillows; Boppy, My Breast Friend, and my latest discovery, the Inflatable My Breast Friend. I think they are all great for nursing, and found that I preferred one or the other depending on where I sat to nurse. In the rocker I prefer the Boppy, probably because the seat is rather narrow. When on the couch or a chair, I like using the My Breast Friend.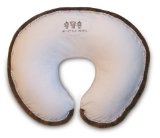 The nice thing about the Boppy is that it can be used for purposes other than nursing, such as support for the baby during tummy time (when he/she is really young), or to help the baby sit and have padding all around. Another use is when you come home after giving birth, if you were so lucky as to end up with painful hemorrhoids, it makes for a fantastic sitting surface, so I've heard.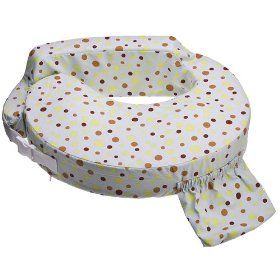 My Breast Friend is nice because it is shaped so there is no gap at all between mom and baby and is attached to the mother for a secure snug fit. Also, because it wraps around the mother's body, it provides some lumbar support.
If I had to buy only one, I would get the Inflatable My Breast Friend. My husband and I recently traveled with our five-month old son and I bought the inflatable pillow for the trip. It feels very similar to the regular My Breast Friend pillow, comes with a cover, and collapses to a small plastic cylinder that can easily be tucked into the diaper bag. It takes a bit of work to inflate it (by mouth) and you have to deflate it by slowly rolling it up from the distal end pushing out all the air, while squeezing the nozzle with your other hand. It took my husband 1-2 minutes to blow it up, and took me about 2 minutes to deflate it. I think it is definitely worth the effort, considering the reduced strain on the mother's back and arms during nursing and while the baby is taking a nap (when on a plane or train). When using it at home, you blow it up once and then don't have to bother with it until you need to travel. (I bought my inflatable one at The Upper Breast Side on the upper west side of Manhattan, and it cost $22 and came with the slip cover.)
Tags : boppy, inflatable my breast friend, inflatable nursing pillow, My Breast Friend, nursing, Nursing pillow | 1 comment