Posted by
Alina
on
Sunday Aug 30, 2009
Under
useful tips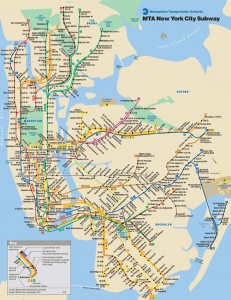 Since many mamas like to/need to get around town by subway, and some fear it because of limited elevator access, I thought I would post a couple of useful links to help you all navigate the NYC subway system with greater confidence.
Here is a link to subway stations in the five boroughs that have elevators from the platform to the street:
http://www.mta.info/mta/ada/stations.htm#manhattan
In case you worry that the elevator may be out of service, which sometimes happens, here is a link to that information, which the MTA updates regularly:
http://advisory.mtanyct.info/ADAOutage/ADAoutage.html
When I  find myself at a station with no elevator or one that is out of order,  people passing by are usually quite helpful when I need a hand, especially in Manhattan. There are tons of nice New Yorkers out there, sometimes, you just have to ask.
Happy travels!
Tags : NYC subway and elevator repairs, nyc subway and elevators, stroller friendly subway stations, subway and baby, subway and elevator outage, subway and escalator repairs, subway and escalators, subway and stroller, subway stations with elevators, wheelchair accessible subway stations | add comments