Posted by
Alina
on
Sunday Aug 1, 2010
Under
safety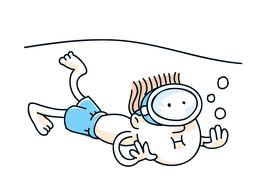 My husband forwarded me an article about signs of drowning a little while ago and I feel the need to keep passing it along. With the summer heat, many of us are trying to stay cool by heading to pools, beaches, lakes, and other bodies of water. It's important to be prepared and know how to recognize signs of drowning.
"The Instinctive Drowning Response – so named by Francesco A. Pia, Ph.D.,  is what people do to avoid actual or perceived suffocation in the water.  And it does not look like most people expect.  There is very little splashing, no waving, and no yelling or calls for help of any kind."
Read the full article here.
A full fact sheet on unintentional drowning from the CDC, can be read here.
Tags : CDC drowning fact sheet, children and water, drowning, guard against drowning, protect child from drowning, signs of drowning, summer safety, water safety | add comments