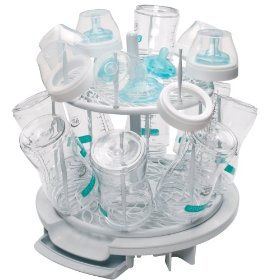 Whether or not you choose to breast feed, at some point your baby will be driking from a bottle. Baby bottles are comprised of multiple little parts and after washing them you will need a place to let them dry. I looked at various drying racks out there and purchased the First Years Modular Drying Rack. It is made of two shelves for placing loose items (like various breastpump parts and bottle nipples) and multiple sticks for holding bottles or sippy cups vertically. The rack also comes with a drip tray to catch excess water and can be placed any where on the counter, not necessarily near the sink. We use only glass bottles (which are heavier) and the rack withstands the wieght just fine. Another big plus of this product is the price, compared to others on the market. I have been very happy with this product and would definitely recommend it.
One Response to "Drying rack"
Natasha Says:
January 24th, 2009 at 5:51 am

Another good option is the Skip Hop Splash. It's a little more expensive, but much more attractive if you leave it on your counter as I do. Plus, it's very sturdy.
Leave a Reply