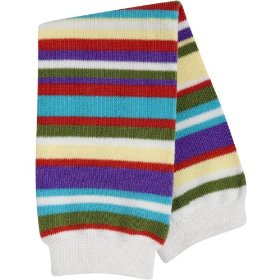 With the cold season just around the corner, I thought I'd post about a useful product to help keep your baby warm. When my son was just a tiny infant last winter, I felt that just having him in lined pants was not enough to keep his little legs warm while outside. I bought a couple of pairs of "boy colored" tights for him to wear under his pants, which were great while outside, but were a bit of a hassle to remove when we got to our indoor destinations. That's when I discovered BabyLegs! These are adorable leg warmers which for an infant cover the legs from thigh to ankle. They are easily removed without having to take off the child's pants when getting to a class or some place where you want to stay for a while. These come in many fun prints to keep their little legs toasty and stylish.
One Response to "Leg warmers"
Jen Says:
September 29th, 2009 at 8:45 pm

I love my Babylegs! I found a pair of "boy" orange and blue stripes, but I sure had a hard time deciding between those and the skulls!
Leave a Reply