Something I learned while crib shopping is that most places (at least in Manhattan and Brooklyn, NY) do not stock cribs, they have floor models and then when you decide on one, the store will order it for you, which takes 10-12 weeks for delivery! This means, that if you wish to have a crib when the baby arrives, you need to do your homework in advance. With all the choices out there, it is hard to decide which to choose.
I first went to a store and looked at different features that a crib may offer. I then concluded that I wanted a crib that had a large storage drawer, a drop side with a quiet locking mechanism, several possible mattress positions, which was reasonably priced.
The drawer needs no explanation, as I have mentioned before, we live in a small Manhattan apartment and will utilize any storage space possible. The locking mechanism on a drop side of a crib, is quiet on some models and purposefully loud on others, as I have learned. Apparently, some companies make theirs with a loud click so that parents are sure they have locked the side properly. However, if you have worked hard at making your baby fall asleep, carried him gently, and then successfully transferred him to the crib without waking him, it would be anticlimactic to have to start all over again because of one loud click of a drop side. I recommend going to stores and trying out the drop sides, paying attention to how much noise they make. The variable mattress positions are a nice option because they allow you to have the baby higher up when he/she is young, so that you don't have to bend over the side of the crib too deep to pick him/her up, which you do very frequently in the first few months. As the baby gets older, and starts to pull up to kneeling or standing, you can adjust the mattress to a lower position for safety.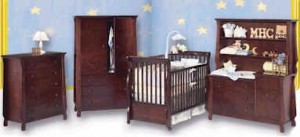 I finally settled on the Mother Hubbard Good Night Good Night crib, which cost about $600. It had all the features that I was looking for and was aesthetically pleasing, although cost a bit more than I originally intended to pay. I found another crib with the features that I was looking for, called the Bonavita Peyton Drop Side Crib (~$340) but it just did not seem very sturdy. Although the floor models may become loosened over time, I had looked at it in several stores and it was a bit shaky each time. I have been extremely happy with the Good Night Good Night crib, which is made in Canada. My husband and my dad were able to put it together without difficulty. Also, it can be converted to a toddler bed, so it should last for a while.
Tags : baby crib, crib, crib and toddler bed, crib converting to toddler bed, crib with drawer, crib with drop side, crib with quiet drop side, crib with storage, good night good night crib, mother hubbard, mother hubbard goodnight goodnight, quiet drop side | 1 comment