My son was born in April, and with the nice Spring and Summer weather, I was usually out and about. At times, it was difficult to find a good place for breast feeding, so I figured out how to do it on the go.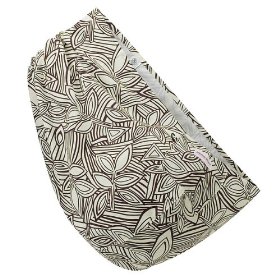 When the baby is very young, you can feed him/her in a sling as you sit or walk. It is very discreet. I was able to do it wearing a V-neck shirt or tank top. The sling has to fit just right, if it is too loose, it may be difficult to walk and nurse. Just pull back the inner piece of the sling material and have the baby latch on.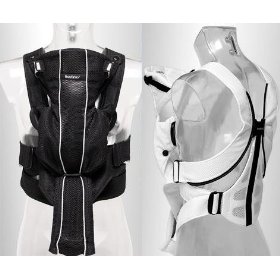 I wore a tank top with a built in bra and a t-shirt over it. When I needed to feed my son in the Bjorn, I was able to lift the front of the t-shirt and pull down the top of the tank top, thus keeping my abdomen covered. Once the baby is in, facing you, loosen the shoulder straps to align the baby's mouth with your nipple. Placing a hat with a brim (summer hat) on the baby's head helps block the view from above. Placing a burp cloth on the strap, helps cover the side view. My son often fell asleep while nursing this way.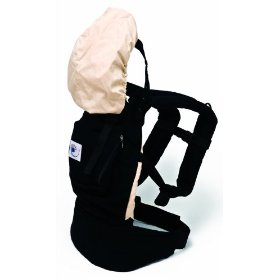 The head cover on this carrier protects the baby's head from the sun, helps to make nursing discreet, and provides support for the baby's head once he/she falls asleep. You can either wear a tank top with a T-shirt over as described above under Bjorn, or you can wear a V neck, a shirt with buttons, or one with a stretchy neck line, so that you can just pull it down and have the baby latch on. Snap on the head cover and a burp cloth on the side strap if necessary for complete cover. Now you can walk, have your hands free, and nurse at the same time.
Tags : baby bjorn, Baby Bjorn and nursing, breast feeding in baby bjorn, breast feeding in ergo carrier, breast feeding on the go, ergo baby carrier, hands free nursing, Nursing in Baby Bjorn, nursing in baby carrier, nursing in front baby carrier, Nursing in in Ergo Baby Carrier, nursing on the go, Sling and nursing, walking and nursing | 1 comment